The Overview: Acumatica and Inventory-Based Enterprises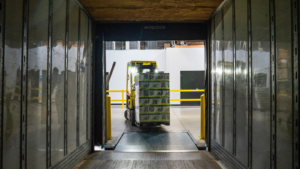 In the proverbial ocean of warehouse and inventory-based point solutions and platforms, it can be difficult to pinpoint ideal supply chain solutions. Between multi-billion-dollar Goliaths like Microsoft and Oracle and industry-specific solutions like Epicor, you have a buffet of available technology ripe for the picking. But, despite the massive influx in this tech, most companies (especially in the mid-market) struggle to maintain inventory integrity. 
According to McKinsey, retailers alone bleed $1.1 trillion on overstocks and stock-outs each year, and inventory-related frictions continue to sap productivity, profit, and energy from supply chain managers who are already hard-at-work balancing the plates of COVID-19-induced struggles and supply chain fragility.
In other words, investing in inventory solutions is a little stressful. You crave tech that can patch leaky holes in your inventory, but the pure scale and number of solutions available make the search difficult. Recently, we've been breaking down some of the larger and more popular inventory solutions on the market. We've covered Microsoft, Oracle (NetSuite), and Epicor. But today, we want to take a step in a slightly different direction. Acumatica is an ERP provider with a little less market cap than those mega-companies. But with a recent BIG Innovation Awards under their belt and a feature on PC Magazine's "Best Inventory Management Software 2020," Acumatica has turned itself into a viable contender to these Goliaths — albeit by using these vendors' cloud resources.
Understanding Acumatica
Acumatica is an ERP that runs on a Microsoft Windows Server and offers both on-premise (via SQL) or over-the-cloud (via Azure, AWS, and SQL). Like other solutions on this list, the pricing structure is on a SaaS license. One thing to note is that Acumatica charges by the resources used (since it leverages third-party cloud hosting) instead of per-seat like Microsoft or Oracle — which both run their own cloud servers.
Acumatica is primarily a warehouse/distribution and manufacturing-driven solution. While they market themselves as a generalized ERP, the bulk of their features seem to weigh in on supply chain and inventory management. And, like most other solutions we've discussed, Acumatica packs a ton of features spread out across multiple dashboards and modules.
Let's quickly break down the inventory management features packaged in Acumatica. But, to be clear, Acumatica has plenty of non-inventory-centric features like AP/AR, BI, CRM, etc. However, the solution seems to be purpose-built for inventory, which helps it step on the toes of giants — despite its somewhat smaller R&D budget.
Acumatica's Inventory-Centric Features
Whenever we approach these massive, multi-layered ERPs, it can be difficult to decide how to break down features. There are simply too many to cover in a single post. Since Acumatica is a more streamlined and visual solution, we're going to get granular. Here are the inventory-centric features you can expect to use if you onboard Acumatica:
1. Replenishment
Acumatica comes packed with the replenishment features you can usually expect from these broad ERPs. You can use multiple replenishment algorithms to replenish against various replenishment methods (e.g., min/max, fixed order, algorithmic expectations, etc.). All of Acumatica's algorithms are solely based on historical purchasing patterns, but they may have additional algorithms when you onboard their xRP platform.
You can trigger replenishment manually or automatically. Either way, POs are actually created on a separate screen and pushed to a different department, so you can skip the back-and-forth between departments.
How StockIQ Adds Necessary Functionality to Replenishment
Special event smoothing logic

: While solutions like Dynamics, Epicor, and Acumatica leverage historical order data to generate targeted POs based on complex algorithms, they don't account for disruptive events. StockIQ does. Our special smoothing logic can predict demand against special events like New Years' without breaking your replenishment cycle.

Supplier minimums

: Chances are, your business has contractual obligations and MOQs to fulfill on the supplier end. StockIQ automatically adjusts replenishment orders against item-level, product-level, and category-level MOQs.

Order targeting wizard

: StockIQ can also automatically target units, weight, price breaks, containers, and more with a simple-to-use, single-click ordering wizard.

Automated order generation

: Our dynamic, fully-fledged machine learning algorithms automatically generate orders across every item in your business, every day. Once you're ready to make a purchase, you'll already have an established order generated. Just submit the PO and sit back.
2. Location Management
Acumatica can easily handle multi-facility operations. You can define inventory across each location down to the bin level, and you can use hierarchies to define receiving and shipping transactions across locations. Of course, there are also location management capabilities built-in to the picking software, but Acumatica also has some neat features that help handle multi-location shipping. As an example, you can track lots and serials by using GiT and adjusting it when goods are transferred to a new warehouse.
How StockIQ Adds Necessary Functionality to Location Management
Transfer allocation wizard

: StockIQ's transfer wizard can automatically adjust inventory loads between locations to minimize single-location overstocks.

Inventory balancing

: StockIQ constantly monitors inventory across all of your warehouses and suggests transfer balances when stocking issues pop-up.
3. Inventory Costing
Like most other solutions we've reviewed, Acumatica has multiple costing algorithms (e.g., FIFO, standard, actual, etc.) to help you project costs. While Acumatica does lack LIFO, that method has fallen out of GAAP recently(ish), so we expect a similar trend across WMS solutions and ERPs. You can also mix costing across inventory types, so there's plenty of room to create hyper-accurate and dynamic costing models that fall in-line with your existing standards.
How StockIQ Adds Necessary Functionality to Inventory Costing
Forecasting hierarchies

: StockIQ produces bottom-up, top-down, and middle-out forecasts across item, group, channel, or customer level to help you understand the full scope of your inventory needs and cost factors.

Current period predictions

: Unlike other solutions, StockIQ doesn't just generate world-class forecasts; we measure those forecasts against actuals to make tangible, meaningful adjustments that keep your inventory and costs in tip-top shape.
4. Kitting
Many manufacturers leverage kitting (i.e., assemblies) for certain items. Acumatica has robust kitting support with built-in component loss detection that can account for any necessary losses during the kitting process and feed those losses back into your algorithms.
How StockIQ Adds Necessary Functionality to Kitting
5. Inventory Tracking and Visibility
This is where distributors and 3LPs will find the bulk of their cost-cutting in inventory management. Reducing stock-outs and overstocks while simultaneously managing dead inventory is the crux of value-driven supply chain management for businesses that primarily rely on inventory. Luckily, Acumatica packs a punch in this category. You can set up complex class hierarchies, leverage demand forecasting, create movement classes and ABC rank codes, create matrices, and use FEFO picking to deal with expiring items. This subsection takes place across multiple dashboards (which are richly visual and certainly much more aesthetically and functionally pleasing than some other comparable solutions).
How StockIQ Adds Necessary Functionality to Inventory Tracking and Visibility
Stock-outs

: Our in-depth stock analysis doesn't just identify and rectify stock-outs, but we give you the contextual analysis you need to understand

why

items are going out-of-stock.

Excess stock

: StockIQ identifies excess stock (at each location) and balances your inventory, and distributes stock to keep levels appropriate across facilities.

Dead stock

: Even with the best inventory analysis can't always account for the unexpected. When you need to get rid of sluggish inventory, StockIQ helps you make space for bigger, fresher, and brighter inventory.

Advanced expiration management

: Not only does StockIQ track inventory, but we generate expiration forecasts that help you track and move inventory before it joins the wall-of-shame.

New items

: One of the most stressful and exciting components of inventory management is dealing with brand-new items. Will they take off like a rocket or sink like a brick? We keep track.
6. In-depth Reporting
Acumatica probably has the most robust reporting features of any solution we've discussed (thus far). In fact, reporting was the primary reason it's the "Editor Recommended" solution on PCMag. This solution generates gorgeous and insightful reports as broadly or granularly as you need. As an example, inventory reports or simple, effective, and really easy to read. In fact, Acumatica makes reports simple enough for virtually any employee to digest, which can provide another layer of collaboration and inventory understanding to your business.
7. Pricing & Discounts
Most companies operate on non-static pricing models. Chances are, your inventory is filled with complex discount policies, volume fluctuations, and promos. Obviously, you need to factor these pricing models into your forecasts, budgets, and replenishment effectively. Acumatica provides the tools necessary to incorporate these fluctuating and ever-evolving pricing models into your inventory management.
How StockIQ Adds Necessary Functionality to Pricing & Discounts
Acumatica + StockIQ: Finding Velocity & Visibility in the Supply Chain
Acumatica is a well-oiled inventory management solution that's perfect for 3LPs and distributors looking to incorporate an intelligent management platform. While Acumatica packs plenty of features, StockIQ adds a new layer of intelligence, functionality, and use to Acumatica's robust ecosystem. Whether you're a distributor, a manufacturer, in healthcare or aeronautics, Acumatica + StockIQ should be one of your contenders. 
To learn more about how StockIQ can overhaul your inventory management practices, contact us. We're an integration-friendly solution, and we add value to nearly every ERP and WMS on the market.
---