The Overview: Epicor and Inventory-Based Enterprises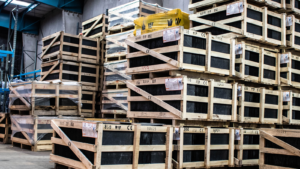 Inventory management — which involves end-to-end visibility across inventory, facilities, and transportation — is the single most critical component of the supply chain for inventory-based businesses. Yet, despite almost every supply chain manager practicing inventory management strategies, inventory-based businesses are still losing trillions of dollars due to stock-outs and overstock annually. Something isn't working.
Those traditional benchmarks, strategies, and processes leak revenue, and trying to measure inventory health using vague sales and financial metrics doesn't truly provide holistic inventory controls.
To help solve this issue, 55% of supply chain managers are looking to adopt Enterprise Resource Planning (ERP) and Warehouse Management System (WMS) solutions in 2021. These digitally-soaked systems are driven by technology and fueled by data. From demand planning to inventory optimization, warehouse planning, and operations, ERPs and WMS solutions drive tangible and proven value, but only if you choose the right solution.
Today, we want to take a look at Epicor — a Houston-based ERP solution that's consistently ranked as "visionary" on Gartner's Magic Quadrant for Cloud ERP for Product-Centric Enterprises. Recently, we also touched on Oracle's NetSuite and Microsoft's Dynamics 365 ecosystems. We strongly urge you to check out those posts to learn more about some of Epicor's competitor solutions.
An Introduction to Epicor
Epicor — like many of today's ERP goliaths — offers a swarm of solutions for inventory-based businesses. While the ERP is their main offering, they also have Supply Chain Management (SCM), Customer Relationship Management (CRM), and Human Capital Management (HCM) software. On the inventory management side, Epicor's features are packaged into their Epicor's ERP. It can be a little daunting to figure out exactly what Epicor solution you need (e.g., Epicor Eagle, Epicor Retail Cloud, Epicor Prophet 21 Cloud ERP, etc.) So, we highly recommend connecting with the Epicor team if you decide to test our Epicor.
For now, we're going to break down the core inventory features in Epicor. But some of these features are in various different Epicor "solutions." However, these solutions are primarily industry-driven, and you'll get every feature you need when you discuss your requirements with Epicor's sales staff. Most inventory-based businesses will choose between Epicor ERP, Epicor Eclipse (which is distribution center flavored), and Prelude (for rental services).
Epicor's Inventory Planning Features
Demand Planning
Demand forecasting is a key lever of supply chain optimization. Unfortunately, demand forecasting is also one of the most complex and challenging aspects of inventory management — since it relies heavily on hyper-accurate AI and machine learning. According to McKinsey, 30 to 40 percent of customers are now embracing new products and services in a post-COVID economy. As the way consumers shop continues to evolve and change, demand forecasting provides the intelligence you need to continue to deliver the right products at the right time. Luckily, Epicor boasts relatively powerful demand forecasting capabilities that it backs up with a unique advanced method of analysis that incorporates short-term trends.
You can choose between a basic or advanced method of forecasting, and both methods leverage velocity and averages to help you determine how much stock and inventory you need to meet demand. While Epicor defaults to basic demand forecasting, advanced demand forecasting generally gives a better overall view of your inventory — since it also uses formulas that predict trends over multiple periods.
How StockIQ Enhances Epicor's Demand Planning
Forecast hierarchies

: StockIQ lets you break down forecasting into bottom-up, top-down, and middle-out categories to drive sophisticated, hierarchical forecasting.

Events

: With StockIQ, you can generate hyper-accurate forecasts that leverage event-driven algorithms that can account for promos, natural disasters, new customers, or any other acute event.

Current period prediction

: We let you monitor performance relative to your actuals, putting  more detailed, accurate, and on-the-fly forecasting at your fingertips.

Promo planning

: We help you track historical promo performance and leverage them to give you real-time forecasting for future promos, with easy-to-make adjustments.

Customer/channel forecasting

: With StockIQ, you can forecast at the item, group, channel, or individual customer level.
Epicor + StockIQ: Building A Smart, Effective, and Holistic Inventory Solution
Whether you choose Epicor, Dynamics 365, NetSuite, or any other ERP/WMS on the market, StockIQ can help you drive meaningful value into your inventory controls. Our solution was built to handle a variety of inventory-based needs, and we play nice with virtually every solution on the market. Want to learn more? Contact us.
Part II, will focus on Inventory and Operational Analytics
---