The Overview: SAP Business One and Inventory-Based Enterprises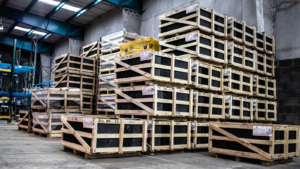 Recently, we've been exploring the ever-expanding ocean of Enterprise Resource Planning (ERP) and Warehouse Management Solutions (WMS) on the market and how they provide tangible value to inventory-based businesses. As we all continue to grasp the unique operational challenges of this disruptive decade, adequate inventory planning continues to be the single most critical component of operational success. And successful inventory planning is driven by technology. According to Boston Consulting Group, leaders in the digital supply chain see 40% higher operating margins and at least 20% lower working capital.
While there are certainly value levers buried across digital supply chain management, inventory continues to be the largest driver of digital growth. The total cost of overstock and stock-outs in the retail market alone averages $1.1 trillion per year. Shedding these costs from your books gives you the flexibility to make strategic acquisitions, invest in savvy capex moves, and survive turbulent economic events. In addition, inventory management is almost always tied directly to operational health. The better your inventory controls; the more vibrant and growth-ready your organization is in the market.
Fortunately, winning with inventory management hardly requires overly complex spreadsheets and teams of analysts of the past. In today's digitally-soaked ecosystem, you can invest in gift-wrapped platforms. But which one do you choose? There are over 40,000 ERPs on the market. How do you choose one that makes sense for your business? 
In this series, we're exploring the cream-of-the-crop solutions for inventory-based businesses. Today, we're talking about an interesting inventory-forward ERP — SAP Business One. While SAP is certainly another software industry giant, SAP Business One presents itself as a uniquely compact solution catered towards small business.
An Introduction to SAP Business One
SAP Business One — which is specifically marketed towards smaller businesses — is the result of SAP's acquisition of Top Manage Financial Systems in 2002. As we see with many of these popular inventory-based ERPs (e.g., Microsoft Dynamics, NetSuite, etc.), SAP Business One has a longstanding history in the ERP market, and SAP has spent decades iterating this product into a formidable competitor. There are a few differences between SAP Business One and other Goliath ERPs like NetSuite and Dynamics. For starters, SAP has a smaller partner ecosystem. Part of this is due to the relative "pickiness" of their partner selection. Since SAP positions itself as a mature solution, it tends to be relatively picky about the slice it cuts out of the massive app market. But they also have a smaller selection simply due to scope. Microsoft and Oracle are more popular ERPs (in the United States, at least), so more vendors flock to them in an effort to sell their solution to the largest user base.
It's important to note that StockIQ is vendor-agnostic. We work equally well with SAP Business One, Microsoft Dynamics, NetSuite, Epicor, and others. So, we shouldn't be part of your ERP consideration. It's easiest to think of StockIQ as an inventory management booster. We provide intelligence and capabilities on top of your ERP.
The other difference is largely marketing-driven. SAP Business One is catered towards small businesses. This means that both the pricing structure and layout of the app favors smaller companies, and it may lack some of the drill-down capabilities of larger solutions once you hit that "enterprise" level of operations. However, we should give you a slight warning here: you can use NetSuite, Microsoft Dynamics 365, and Acumatica as a small business. 
There's really nothing stopping you. But SAP Business One does have a more straightforward pricing model and less complex initial setup many small businesses desire, so it is "custom-built" for the small and mid-market in that sense.
There are 15 modules packed in SAP Business One. We're focusing on the inventory module. But there's also an inter-related MRP module many manufacturers may find valuable for inventory control. Typically, supply chain management focuses on three primary levers: demand and supply forecasting, inventory management, and design + ops. These three cornerstones of building a robust supply chain branch out significantly based on the business structure, size, and industry. SAP Business One inventory provides all three to some degree.
SAP Business One's Inventory Module
When we look at SAP's inventory module, we see a list of familiar faces. Like other ERPs, SAP provides a wealth of baseline inventory management features. However, similar to others, it doesn't provide the end-to-end capabilities necessary to completely transform your inventory controls. 
Luckily, StockIQ — which is an inventory-centric solution — naturally integrates with major ERPs like SAP Business One, which can help fill out the feature list and provide the key capabilities you need to control inventory. Remember, controlling inventory and minimizing excess doesn't only boost profits, accelerate growth, and eliminate leaky revenue, it uncovers hidden downstream issues like poor vendor management, mismanaged product portfolios, and production frictions.
Before we list each inventory feature, let's point out some of the coolest features of SAP Business One. For starters, you can use SAP Crystal Reports, which is one of the more intelligent reporting solutions on the market. In addition, SAP HANA — SAP's analytics and database solution — is built to allow hyper-accurate analytics and forecasting. Finally, IT will be fans of SAP's documentation — which is a little less contrived than some of their competitors.
Since most of SAP Business One's inventory features are captured in one interface, we're going to cover them in bullet-point form. Each of these bullet points has its own frame in SAP, and you can do some level of customization on each.
Stock management using a variety of costing methods (unsurprisingly, no LIFO support) with built-in kiting and BOM

Easy-to-use tracking with serial-level capabilities

Super batch and lot-level traceability

Great forecasting (requires a fair bit of tweaking and configuration) with some fancy smoothing algorithms

Easy cycle counting
In general, you'll set up items via serial numbers, assign them to bins, and assign each bin to a warehouse. Then, you'll use forecasting and canned reports to keep track of demand while the system semi-automatically tracks and records for traceability. 
So, you get the basics in one interface. In fact, SAP Business One is a great solution to pair with StockIQ. It provides the core framework, and StockIQ grants additional capabilities like dynamic forecasting, enhanced smoothing logic, supplier minimums, dead inventory control, SLA adherence, expiration tracking, supplier performance tracking, promo analysis, and drill-down, item-level detail.
While we won't "pro and con" this solution (there are too many variables), we will say that SAP Business One does lack a few intelligence features, but it more than makes up for it with simplicity, easy-to-digest pricing structures, and a built-for-small architecture. You will almost certainly want to pair it with a solution like StockIQ to reach the level of digital competence needed to compete with savvy competitors in today's dynamic supply chain ecosystem.
StockIQ + SAP Business One: Piling on the Capabilities
Choosing the right ERP is a deeply personal decision. It requires you to honestly analyze your needs, goals, and ambitions. Whichever ERP you settle on, we're here for you. StockIQ provides end-to-end supply chain management capabilities to the world's leading ERP and WMS solutions. Are you ready to build a robust digital supply chain that eliminates excess inventory and provides peace of mind? Contact us.
---